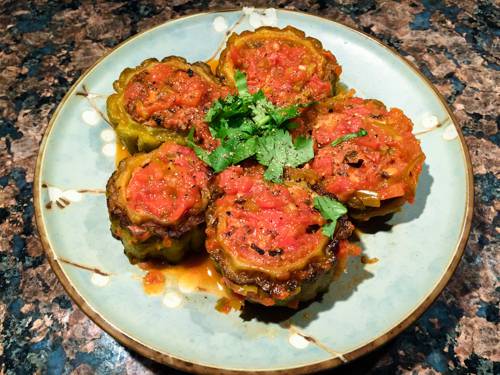 Ingredients
3 pounds bitter melons
3 tablespoons canola oil, for shallow frying
STUFFING
20 ounces firm tofu
10 medium dried wood ear mushrooms, soaked in warm water for 2 hours
2 ounces of bean thread noodles, soaked in warm water for 2 hours
1 leek, white part and 1 inch of green part, finely chopped
1 tablespoon agar powder
2 teaspoons salt
½ teaspoon ground pepper
1 teaspoon dry mushroom seasoning
TOMATO SAUCE
1 lb fresh tomato or 4 ounces canned tomato sauce
2 tablespoons tomato paste
1 teaspoon oil
16 ozs water
16 ozs Vegetarian Soup Base (see Vegetarian Soup Base)
3 leeks, white part and some green part, finely chopped
2 teaspoons sugar
1 teaspoon salt
½ teaspoon pepper
1 teaspoon dry mushroom seasoning
Directions
Prepare the filling and the bitter melon according to the Stuffed Bitter Melon recipe in Mahayana Path without Interruption.
Fry the steamed stuffed melon slices in 3 tablespoons oil until golden brown on both sides, remove from the pan and set aside.
To make the sauce, using the same pan, add 1 teaspoon oil, turn the heat to medium high, and fry the leeks until lightly browned. Then add the tomatoes or tomato sauce and stir fry for 3 minutes. Add tomato paste and stir fry for another minute.
Add water and Vegetarian Soup Base and simmer for 3
Add salt, pepper and dry mushroom seasoning.
Return the fried bitter melons in the step 2 above to the frying pan, cover the pan with a lid, reduce heat, and simmer for 30 minutes until the melon is slightly translucent and the stuffing is fully cooked.
Serve with rice.