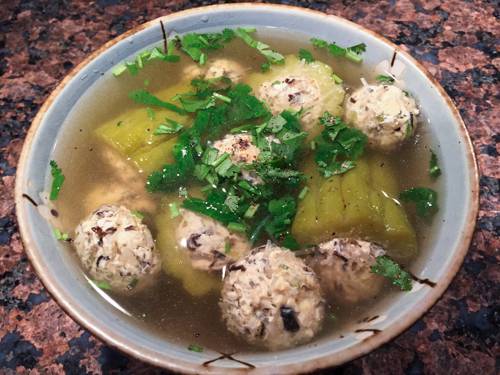 Ingredients
3 pounds bitter melon
6 cups water
6 cups Vegetarian Soup Base (see Vegetarian Soup Base)
2 teaspoons salt
1 teaspoon dry mushroom seasoning
1 teaspoon black pepper
3 sprigs cilantro, coarsely chopped
FILLING
20 ounces tofu
10 medium dried wood ear mushrooms
2 ounces of bean thread noodles
3 tablespoons finely chopped leek (white part and some green part)
1 tablespoon corn starch or tapioca starch
2 teaspoons salt
1 teaspoon dry mushroom seasoning
½ teaspoon black pepper
Directions
Prepare the filling:
Soak the glass noodles in warm water for 2 minutes, then drain and roughly chop into ½-inch long segments.
Soak wood ear mushrooms in warm water for 5 minutes, then drain and finely chop.
Rinse tofu, pat dry, and then use a wooden spoon to mash tofu into a paste.
In a medium-sized bowl, mix together the mashed tofu, glass noodles, wood ear mushrooms, leeks, agar powder, salt, black pepper and mushroom seasoning. Set aside.
Prepare the soup:
Put water and Vegetarian Soup Base in a large pot and bring to a boil.
Add the stuffed bitter melon and simmer for 1 hour.
Add salt and dry mushroom seasoning, and simmer for ½ more hour.
Top with cilantro before serving.