Malabar Spinach Leaf Soup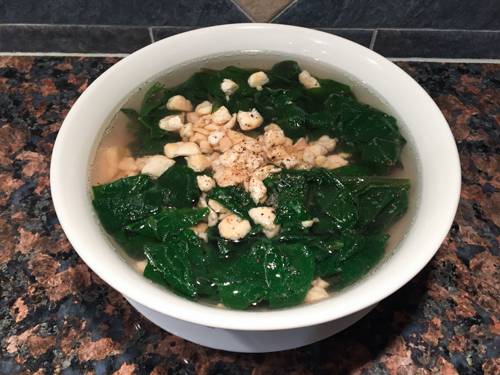 Ingredients
2 cups Fried Tofu Crumbles (see Fried Tofu Crumbles)
4 cups of water
4 cups Vegetarian Soup Base (see Vegetarian Soup Base)
2 large bunches of Malabar spinach, about 1 lb (aso called vine spinach or
climbing spinach)
2 tablespoons canola oil to fry tofu
1 ½ teaspoon salt
1 teaspoon dry mushroom seasoning
1 pinch black pepper
4 stems of cilantro (optional)
Directions
Pick off all the thick stems from the cilantro. Wash it and shake dry. Chop the cilantro thin stems and leaves coarsely.
Remove and discard the stems of the Malabar spinach before washing. Also discard leaves with dark, bruised patches or yellowing.  Soak the spinach leaves in water for several minutes to loosen any dirt or sand. Drain the water, rinse the leaves, and then repeat the soaking and draining process once more.
Combine water and Vegetarian Soup Base in a large pot and bring to a boil over high heat.
Add the spinach. Once the water begins to steam, lower heat to medium high. Boil the water and spinach until the spinach leaves are tender. About 1 to 3 minutes.
Add salt and mushroom seasoning to taste.
Add fried tofu crumbles.
Garnish with cilantro and black pepper and serve.