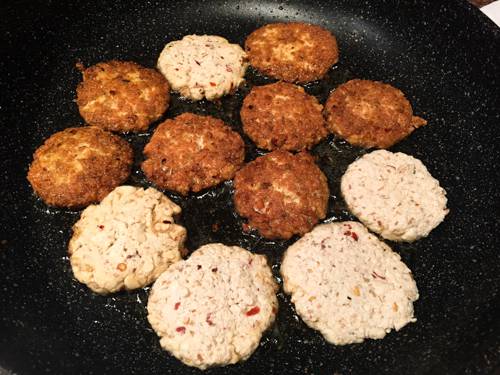 Ingredients
10 ounces Fried Tofu Cubes (see Fried Tofu Cubes above)
1½ cups water
1 tablespoon chopped leek (white part and some green part of leek, finely chopped)
1 tablespoon minced lemongrass, fresh or frozen
1 teaspoon crushed red pepper flakes
½ tablespoon sugar
1 teaspoon salt
½ tablespoon curry powder
½ tablespoon tumeric
1 teaspoon dry mushroom seasoning
Directions
Add canola oil to a saucepan and heat over medium-high heat.
Add the chopped leek and stir until light golden brown.
Add minced lemongrass and fry for 10 seconds.
Add water, curry powder, turmeric, sugar, salt, and crushed red pepper, and simmer for 2 minutes.
Add tofu and simmer until all the sauce is absorbed by the tofu, about 10 minutes.