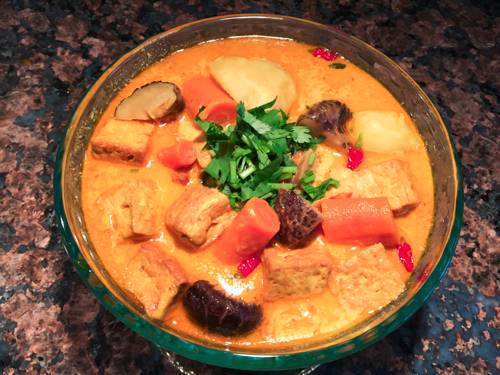 Ingredients
30 ounces Fried Tofu Cubes (see Fried Tofu Cubes)
4 lbs of a combination of white potatoes (Yukon gold), sweet potatoes (Boniato or similar type), and taro root (cut into 1 ½ -inch cubes)
1.5 lbs carrots (cut into 1-inch segments)
10 cups water
10 cups Vegetarian Soup Base (see Vegetarian Soup Base)
8 ounces dried Shiitake Black Chinese mushrooms, soaked in hot water for 4 hours, then rinsed and drained
1 tablespoon curry powder
1 4-ounce can of Thai yellow curry paste (try Maesri's Karee Curry Paste – Yellow)
2 cans (400ml) coconut milk
2 cups milk
1 tablespoons vegetable oil
1 medium leek (use the white part and some green part, sliced into ½ inch slices)
2 stems of fresh lemongrass cut into 3-4 inch long
1 tablespoon minced and crushed fresh or frozen lemongrass
10 whole fresh red hot peppers
½ tablespoon turmeric
¾ tablespoon salt, plus more to taste
1 tablespoon sugar, plus more to taste
½ tablespoon dry mushroom seasoning, plus more to taste
4 ounces roasted unsalted peanuts
Directions
Peel potatoes and remove any blemishes or eyes. Immediately place each peeled potato in cold water to prevent the outer surface of the potato from discoloring.
After potatoes are peeled, cut large potatoes in half or into quarters. If the potato pieces are still fairly large, cut in half again, until the pieces are about 1 ½ inches. Try to cut the pieces so they are consistent in size so that they will cook evenly. Set aside to dry
Prepare the sweet potatoes and taro roots the same way.
Steam potatoes, sweet potatoes and taro for 20 minutes. Set aside. If a steamer is not available, skip this step and just add potatoes, sweet potatoes and taro directly to the soup in step 8.
In a large pot, add 1 tablespoon of oil, fry the leek for about 1 minute, then add the Shiitake black chinese mushrooms, curry powder, turmeric, and crushed lemongrass, and continue to fry until fragrant, about 2 minutes.
Add water and Vegetarian Soup Base and bring to boil.
Add fried tofu in step 5 above, 2 stems of lemongrass already cut into 3-4 inch long, and coconut milk; bring to a boil, then lower the heat and simmer for 5 minutes.
Add potatoes, sweet potatoes, taro roots, carrots, red peppers, and continue to simmer for another 2 hours.
Add salt, sugar, and dried mushroom seasoning to taste.
Serve topped with roasted peanuts over rice, rice noodles, or with a French baguette and salad. Note that this curry freezes well and can be kept in the freezer for future use.